Welcome.
Bobcat's Motorsports delivers high quality products and services. Customer satisfaction is our top priority!


NEW ARRIVAL - BMS RANCH PONY 600 EFI UTV




MOST POPULAR - FULLY ASSEMBLED BMS V-TWIN 800 BUGGY

ICE BEAR "MADDOG" 50cc Street Bike with 12" Big Tires Fully Automatic (PMZ50-19)
65% assembled 2015 BMS V-TWIN 800cc Dune Buggy, Automatic with Reverse, 2WD/4WD Switchable, EFI

NEW ARRIVAL WITH NEW COLORS ~

ICE BEAR "Maddog" 50cc street bike PMZ50-19 has the most popular body design on the market today. It comes with 12" big tires, Big and unique dual headlights, Very cool looking tires and many more great features..


NEW ARRIVAL ~Experience off-road excitement in this rally inspired CARB approved BMS 800cc V-TWIN dune buggy. Powered by a High Performance 4-cylinder fan liquid cooling engine with Electronic Fuel Injection (EFI). Peak power production of 60 horsepower coupled to a Hi/Lo 2-speed automatic transmission for instant acceleration and total driver control. Extra capacity 6.5 gallon fuel tank for extended range and fun!

"Mini Jeep" 125cc 2 Seater Go Kart Semi Auto 3 Speed w/ Reverse ATK-125A
Ice Bear MADDOG 150cc Motor Trike PST150-19N with 12"/14" Extra Wide Big Tires, LED Style Lights

NEW ARRIVAL ~The TaoTao 125cc Go-Kart (ATK-125A) is designed for children 7 to 13. This Family Friendly model is Safe, Fun, and Easy to Drive, will safely carry two young riders. Semi Automatic 3-speed with reverse, Bright lighting. Two adjustable seat with 4-Point safety belts. Adjustable Throttle to Control the speed for children.

NEW ARRIVAL ~2015 ICE BEAR 150cc MADDOG Motor Trike PST150-19N is 100% street legal. most popular body design. GY6 air cooled engine. Upgraded Differential Driving Device, Chain driven & Dual disc brakes, 2 gal big gas tank. Bright LED style lights, Fully automatic transmission, Backup kick start, stylish exhaust pipe and many more great features...

TAO TAO 110cc "Mini Hummer" Youth Quad Fully Automatic with Remote Control ATV-110D
CARB Approved 2015 BMS 150cc "Sand Sniper" Go Kart Automatic+Reverse, Sun roof, Luggage rack, 4 Wheel fenders, Optional Windshield and Spare tire

TAO TAO 110cc Youth ATV, 4-Stroke Air Cooled Engine, Smooth & Quiet, Fully Automatic transmission, Anti-theft Security System and Remote engine kill. Suitable for children ages 6 to 11..

NEW ARRIVAL! The All New BMS 150cc SAND SNIPER Go-Kart features a reliable "Taiwan SYM" Honda GY6 clone engine, Japanese Large Capacity Fuel Pump, Fully Automatic Transmission with Reverse. Also equipped with Sun Roof, LED Roof Lights, Rearview Mirrors, Heavy Duty Front Bumper and Rear Luggage Rack, All Wheel Fenders! The Racing Style Independent Dual A-Arm Front Suspension and Rack & Pinion Steering provide superior handling and control, the big off-road tires provide better balance, 2.65 gallon big gas tank... This buggy is suitable for ages 13+, Great Family Fun!
ICE BEAR Motor Trikes: The fun and dependable transportation that you have been looking for!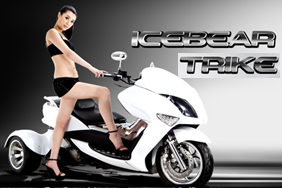 99.9% Assembled BMS Sand Sniper 150 Go Kart Automatic with Reverse, Sun roof, LED Roof light, 4 Wheel fenders, Optional Windshield and Spare tire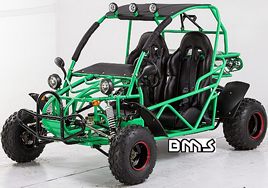 BMS Ranch Pony 500cc UTV 34 HP 2WD/4WD Selectable Shaft Driven FREE Stereo, Windshield, Hard roof