Welcome.
Bobcat's Motorsports delivers high quality products and services. Customer satisfaction is our top priority!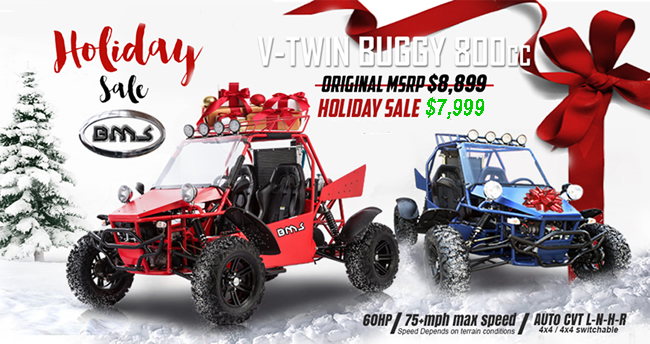 YOU GOT THE POWER!
BMS V-TWIN 800 POWER BUGGY
NEW ARRIVAL! BMS RANCH PONY 600CC UTV (4 Seaters now Available)


TAO TAO 110cc "Mini Hummer" Youth Quad Fully Automatic with Remote Control ATV-110D
NEW! 500W Electric Scooter Runs Smooth and Quiet w/ 12" Tires, Licensing/Insurance is NOT needed (ATE-501)

TAO TAO 110cc Youth ATV, 4-Stroke Air Cooled Engine, Smooth & Quiet, Fully Automatic transmission, Anti-theft Security System and Remote engine kill. Suitable for children ages 6 to 11..

The TAOTAO 500w Electric Scooter ATE-501 delivers amazingly smooth and quiet rides, it is a great transportation for high school or college students or people who do not travel on freeway daily, perfect for zipping around town. Charge the battery 6 hours or overnight, you will get up to 30 miles of ride per charge. It comes with 12" tires and a big matching rear trunk, large under-seat compartment, and many more great features. Motorcycle license/Plate/Insurance is NOT required for an electric scooter in most States, please check with your local police department for details.

TaoTao TFORCE med size 110cc ATV Automatic+Reverse, Remote, 18"/19" Big Tires, Beautiful black trims, Digital gear indicator
Fully assembled 2016 BMS V-TWIN 800 BUGGY L4 Special Edition; Long Version; Double LED Light Bar; Automatic with Reverse, 2WD/4WD Switchable, EFI

NEW ARRIVAL ~TaoTao MED Size 110cc ATV (TFORCE), 4-Stroke, Automatic Transmission with Reverse, 8" Big Rims on 18"/19" Big Tires. Anti-theft Security System and Remote engine kill. It is same size as the 135DU but has beautiful black trims, digital gear indictor and aluminum gas cap that the 135DU does not have. Suitable for ages 10+

NEW ARRIVAL ~Experience off-road excitement in this rally inspired EPA, DOT and CARB approved BMS 800cc V-TWIN BUGGY L4. Powered by a High Performance 4-cylinder fan liquid cooling engine with Electronic Fuel Injection (EFI). Peak power production of 60 horsepower coupled to a Hi/Lo 2-speed automatic transmission for instant acceleration and total driver control. Extra capacity 6 gallon fuel tank for extended range and fun!


Ice Bear HAWK 150cc Motor Trike PST150-18 (Big bright eyes, Sharp looking)
TAOTAO 125cc Dirt Bike 4 Speed Manul, Foot Shifter, Dual Disc Brakes, 17"/14" Tires (DB17)

NEW ARRIVAL ~Ice Bear HAWK 150cc Motor Trike (PST150-18) has a standard sized body frame with a super cool body design, Equipped with GY6 air cooled engine. Chain driven & Dual disc brakes, Fully automatic transmission, Rear differential device, Trailer hitch, Electric start with backup kick start...

NEW ARRIVAL ~TaoTao 125cc Dirt Bike DB17, 4 Speed Manual with Clutch, Foot Shift, Dual Disc Brakes, Kick Start, Top Speed 37 mph. For experienced riders ages 16+.
Today's Super Deal!



ICE BEAR 50cc Moped Scooter PMZ50-10

NEW ARRIVAL

~ ICE BEAR 50cc

Moped Scooter PMZ50-10 has the most popular body design on the market today. It comes with 12" big tires, Big and unique dual headlights, Large matching rear trunk, Eye-catching colors...
ICE BEAR Motor Trikes: The fun and dependable transportation that you have been looking for!
99.9% Assembled BMS Sand Sniper 150 Go Kart Automatic with Reverse, Sun roof, LED Roof light, 4 Wheel fenders, Optional Windshield and Spare tire
BMS Ranch Pony 500cc UTV 34 HP 2WD/4WD Selectable Shaft Driven FREE Stereo, Windshield, Hard roof