Welcome.
Bobcat's Motorsports delivers high quality products and services. Customer satisfaction is our top priority!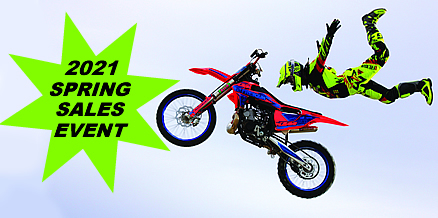 Dear Bobcat's Family,
We have been heavily impacted by Pandemic and experiencing unexpected delays by U.S. Customs, delivery companies and short staffing at every warehouse across the country. Due to a severe shortage of equipment and personnel in domestic transportation, we anticipate a minimum of 1-week delay with in-stock vehicles, and 2-week delay with pre-ordered vehicles. Please bear with us and be more patient while waiting for your delivery, we thank you for your understanding and cooperation.
Sincerely,
Bobcat's Motorsports
YOU GOT THE POWER! BMS V-TWIN 800 PLATINUM


NEW ARRIVAL! BMS Sniper T350

Tao Tao TFORCE full size Youth ATV Automatic with Reverse, Remote, 18"/19" Big Tires, 8" Rims, Beautiful black trims, Digital gear indicator
CARB Approved! BMS Ranch Pony 4-Seater 700 UTV EFI ECU 43hp 2WD/4WD Switchable, Automatic CVT P/R/N/L/H, 4 Wheel Disc Brakes, Bluetooth/Dual Speakers/MP3/Radio, Double Windshield, Hard Roof

IN STOCK SOON TaoTao MED Size 110cc ATV (TFORCE), 4-Stroke, Automatic Transmission with Reverse, 8" Big Rims on 18"/19" Big Tires. Anti-theft Security System and Remote engine kill. It is same size as the 135DU but has beautiful black trims, digital gear indictor and aluminum gas cap that the 135DU does not have. Suitable for ages 10+. $999 for the 2nd ATV, price will adjust during checkout.

NEW ARRIVAL ~EPA & CARB Approved BMS 4-Seater Ranch Pony Multi-purpose Utility Vehicle, Electric Fuel Injection (EFI), Electronic Control Module(ECU), 3-in-1 Cooling System (Water & Oil), 700cc 4 Stroke 4 Valve SOHC, 43 horsepower. Large Fuel Tank 7.4 Gal. Fully Automatic Transmission with Reverse P/R/N/L/H, Selectable 2WD/4WD, 4-Wheel Independent Suspension with Coil-Over-Shocks, Electric winch, Bluetooth/Radio/MP3 Motorcycle Stereo System with Dual Speakers, Double Windshields, Hard roof top, Digital dash, Dual Hydraulic Disc Brake, Adjustable seats and many more great features..

EPA/CARB Approved ICE BEAR 125cc "ROOST AUTO" Dirt Bike Fully Automatic, Dual Disc Brakes, Electric & Kick Start, 14"/12" Tires, Seamless Tubing Frame, 45 mph (PAD125-1F)
Ice Bear Mojo Magic Z 150cc Motor Trike PST150-9Z (New Sporty) with Detachable Windshield, Luggage Box, LED Lights, KENDA Tires

ICE BEAR 125cc Fully Automatic Dirt Bike "ROOST AUTO" PAD125-1F pit bike, Dual Disc Brakes, Electric Start and Kick Start, Top Speed over 45 mph. For experienced riders ages 16+. $799 for the 2nd bike, price will adjust during checkout.

SPRING SPECIAL ~Ice Bear MOJO MAGIC Z Model 150cc Motor Trike (PST150-9Z) has sporty body design, It is also lighter and faster, Equipped with GY6 air cooled engine. Chain driven & Dual disc brakes, Fully automatic transmission, Rear differential device, Trailer hitch, LED Taillights, Electric start with backup kick start, Free rear luggage carrier, 12 Months bumper to bumper warranty and many more great features...

2021 ICE BEAR HOLESHOT-X (PAD50-2) 50cc 2-Stroke Pit Bike Children dirt bike w/ Speed Limiter, Tether switch, Fully Automatic, Dual Disc Brakes, 10" Aluminum Wheels, 30 mph
BMS Enduro 250 CRP Premium Dual Sport 250cc Enduro Bike Motorcycle Light Weight/Durable/Responsive, Air Cooled, Manual 5 Speed, Dual Disc Brakes, Inverted Forks, 21"/18" Big Tires, Anti-theft Security Ignition

2021 NEW ARRIVAL ~ICE BEAR premium edition 50cc 2-Stroke Air Cooled Pit Bike PAD50-2 with Speed Limiter, Emergency Shut-off Switch and Tether Kill Switch for young beginners, Automatic Transmission, Dual Disc Brakes. 10" Aluminum Wheels. A great choice for children ages 8+. Ride it in the yard, an open field, and almost every off-road area as you wish. $499 for the 2nd bike, price will adjust during checkout.

The all new BMS Enduro 250 CRP Dual Sport Motorcycle is built with Light Weight and Durable frames, comes with a 250cc Air Cooled engine which requires low maintenance. Also equipped with Dual Disc Brakes, Inverted Forks, Manual 5 Speed Transmission, 21" and 18" Large DOT Tires. Low seat height, High ground clearance. Street/Freeway legal in 49 States except for California.
Today's Super Deal!



AMIGO AVENZA 150 Scooter ZN150-30A

You'll get all of the excitement and charm of the classic Italian look with the brand new 2021 AMIGO AVENZA-150 Scooter! It has the most popular Vespa body design and beautiful chrome details but with contemporary technology. Windshield, rear trunk, LED light, white wall tires... Comes to your door near fully assembled, just put on mirrors, charge battery, gas it up and you are ready to go!
ICE BEAR Motor Trikes: The fun and dependable transportation that you have been looking for!
2021 Scooters Arrived! EPA/DOT/CARB Approved for all 50 States!
FREE SHIPPING to your door 99% assembled. Fast processing 2 to 3 business days.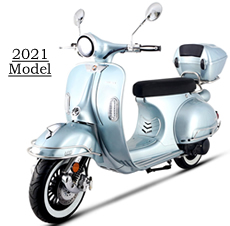 BMS Ranch Pony 700cc EFI UTV 2WD/4WD Selectable Hi/Lo Gear, 4 Wheel Disc Brake, Bluetooth Stereo, Double Windshield, Hard roof top. P/R/N/L/H